When I was a new mom, I was always nursing with a blanket, but it was hot, it was a balancing act and it didn't always fit correctly. When I was pregnant with my second, I decided there must be a way to make something like a Hooter Hider or any of the other fancy nursing covers. I found a pattern online, made one and used it all the time. Now, I try to make them for the breast-feeding friends when they have babies.
Yes, I nursed my children, but I don't give these covers to anyone unless they have expressed an interest in doing the same. I'm not trying to push my beliefs, I'm just trying to give a nursing mommy something they might not think to register for.
My favorite part of making these nursing covers is that I get to pick my fabric. My baby was born in July and I had no idea if she would be a female or a made, so I went with white fabric with multicolored polka dots. As I've made more of these, I've been able to customize each one.
I followed this pattern from Prudent Baby.com, my favorite site for sewing patterns and crafty ideas.
And they do no compensate me in any way to say that. In fact, they have no idea who I am.
I really don't change up the pattern at all. Sometimes I make them a little wider just out of comfort for the mom, but it all depends on how much fabric I have.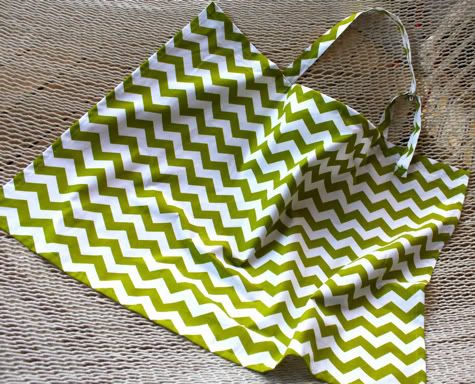 DIY Nursing Cover Tutorial
1.  Yard for fabric cut into three pieces of the following size:
26″X38″ for the cover
30″x3″ for one side of the strap
10″X3″ for the other side of the strap
Boning about 14″ long (i bought one foot and they threw in the two inches) – you can get this at any fabric store for about 50 cents – and a set of d-rings, also about 50 cents.
2.  Take the strap pieces and fold them in half, right sides facing and sew with a 1/4″ seem allowance. The turn them right-side out. Then iron flat with the seam in the middle, repeat on both straps (the seam side will be the back of your straps).
3.  Take one edge of each strap and fold it over 1/4″ and iron. On the short strap, grab your d-rings and fold the fabric over them and pin.Sew in place with a strong stitch as this area will get a lot of stress on it. On the other strap, just fold over and sew.
4.  Now grab your cover fabric.  On the bottom edge, along the length, fold over 1/2″ and iron, then another 1/2″ and iron. Sew in place with a straight stitch:
5.  On the perpendicular sides (the two shorter sides) do the same thing.
6.  Now for the top of your homemade nursing cover.  Fold the top edge over 1/2″ and iron, then another inch and iron.  Fold the whole thing in half to find the center of the top.  Measure 7″ in from the center and mark with a pin on both sides. Sew the seam with a straight stitch in between your two pins. Insert your 14″ piece of boning with the curve out to the right side of your fabric. Sew up the seam (perpendicular to your hem) to secure the boning in place.
7. Now to attach our straps.  Insert the strap right side up under the hem next to the boning. Fold it up over the hem, iron and pin in place. Repeat with the other strap on the opposite side. Sew in place with a straight stitch forming a box (to give your straps holding power).
8.  Now just sew the remainder of the seam in place, from the strap to the edge.
If you are a nursing mom, plan to be in the near future or know of someone who might love one of these, it's easy to make and a great tool to have!
Tune in to see what else I paired with the nursing cover and the onesie dresses that I recently made for a baby shower gift basket.